It was not only the Irish eyes smiling this St. Patrick's Day. At SpecialEyes Contacts, the lads and lasses could be found having a marvelously, bawdy time. Check out the team's celebration below!
St. Patrick's Day Joke:
Knock, Knock
Who's there?
Irish.
Irish who?
Irish you were all here to join the party!
In true Irish tradition, the office was transformed into a field of green with clovers and leprechaun hats galore. There was lots of food, laughter and singing drinking songs. Raising our glasses filled with non-alcoholic Shamrock Shakes, the team at SpecialEyes Contacts yelled "Sláinte"before washing down the flavorful lamb sliders prepared by our very own Michelle Walsh. For those of us with a sweet tooth, the Lucky Charms crispy treats were delightful.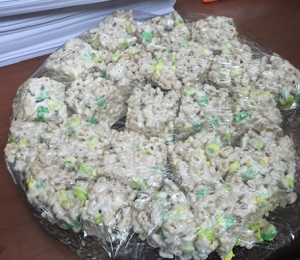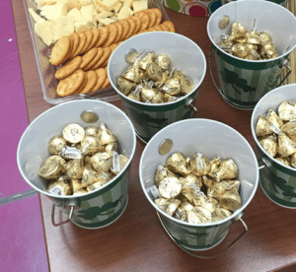 Leprechaun advice: Don't "pinch" your contact lenses when taking them out!
The team was then off to partake in some leprechaun mischief with a game of pantyhose bowling. The halls of SpecialEyes Contacts were filled with loud cheers and laughter, as the two teams battled it out to win a pot of gold. Here's how to play!
Materials Needed:
• Two pair of large pantyhose (one for each team)
• Sixteen bottles of water (eight for each team)
• Two green apples (one for each team)
Directions:
Split players into two teams. Line up the water bottles in two rows of eight. Each team takes one pair of pantyhose and places their apple inside one of the legs. Wrap the pantyhose around the head of the first player on each team.
The team member must swing the pantyhose and apple back and forth to knock over each bottle of water in his or her line. Players may not use their hands! The first person to finish gets a point for their team. Reset the water bottles and pass the pantyhose to the next teammate. The team with the most points wins!
Though we at SpecialEyes Contacts take serving our customers very seriously, we believe in having a bit of fun around the office. We hope you enjoyed the glimpse into our St. Patrick's Day party and we count ourselves very lucky to have you on board!
Allison Salerno
Allison is a valuable member of the SpecialEyes team and brings with her dedication not only to SpecialEyes' customers, but her colleagues and the company's vision as well.