At SpecialEyes we always seem to have a good time at the office while making custom toric, multifocal, and multifocal toric contact lenses. But, when SpecialEyes goes looking for an exciting day of fun team-building adventure outside the office they find it at TreeUmph! adventure course in southwest Florida.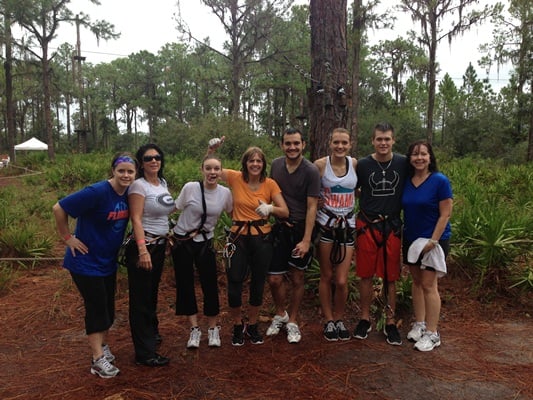 As a team, we took to the trees zipping from platform to platform and dangling 60 feet in the air! The experience was almost as thrilling as making custom toric and multifocal contact lenses for our clients! At times, we even found ourselves humming "Zip-A-Dee-Doo-Dah, Zip-A-Dee-A. My oh my, what an exhilarating day!"
On the course we found rickety wooden bridges, suspended climbing walls, rope ladders, tight wires, snares, monkey bars, rings and other such obstacles to master all while being suspended 30 to 60 feet in the air! None of us wanted to be followed by our kids as they made this trek impossible by shaking and rattling our passage.
Each of us learned a little bit about ourselves and one another. It was tons of fun and exhilarating to say the least. At the office we like to joke around saying it was "fun, fun, fun until somebody takes your carabiner away!"
Staci Blackwell
Staci Blackwell is an account manager at SpecialEyes. She has been with the company since 2007 and carries with her a vast knowledge of the company's products and the features of those products that can benefit your most discriminating contact lens patient.