It's crazy to believe that 2021 is almost over. As November comes to an end and we reach December, we wanted to take a second to decompress and unwind. We celebrated Thanksgiving as a company with our research partner: Benz R&D. We had a traditional Thanksgiving meal together, a baking contest and played games together.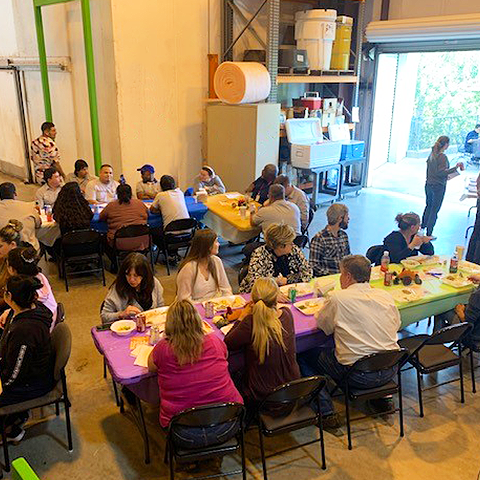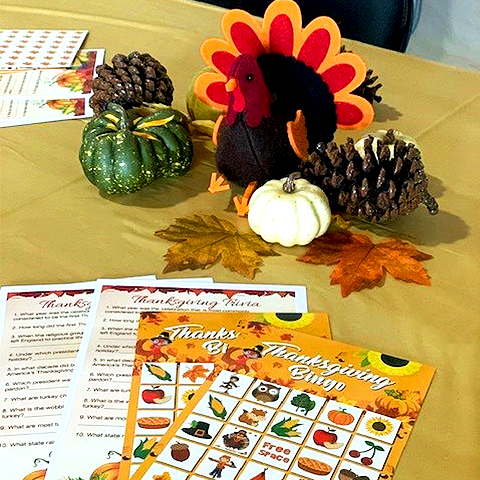 It was the perfect way to break up the day.
After the party we asked our SpecialEyes coworkers what they are looking forward to:
"I am really looking forward to Thanksgiving. Not only because it's when the weather starts to change, and we can enjoy spending more time outdoors but because it is my favorite holiday! My family members each get one holiday a year to host and mine is always Thanksgiving. I really enjoy preparing for our Thanksgiving Dinner. I love the planning, deciding who is brining what dish, as well as the shopping and the decorating. But most of all, I love having my immediate family and their families come over to my house to watch football, share a meal and catch up!" - Karen, Customer Service Supervisor
"Something I'm looking forward to is getting into the holiday spirit. I love driving around town and seeing all the decorations and hearing the familiar Christmas songs on the radio, every store, and office for the next few weeks. It's something I look forward to all year. When I go on shopping trips with my adult children and see all the little kids lining up to share their Christmas lists with the variety of Santas around town, it brings back so many memories of when mine were little and that was us standing in line. I enjoy the crowds of fellow shoppers and seeing the excitement and joy on their faces as they find "the perfect gift" for their loved ones. Driving back home reminiscing over holidays from the past and returning home exhausted but feeling so joyful. So yes, I would have to say that getting into the holiday spirit is definitely something I'm looking forward to." - Dawn, Account Manager
"I am looking forward to the holiday season. This is the time of the year where I get to fulfill my two passions: baking and hosting. I can't wait to have my whole family together in one room." - Michelle, Vice President
We asked some of our coworkers about a simple pleasure they are grateful for:
"I am so grateful for all the beautiful places there are to just sit and soak in the beauty of this world. Living close to the beaches of Florida, there are endless places to sit, relax and soak up everything around you. Being able to just sit in the beauty of the day is such an amazing gift. I am so grateful. Especially when the stresses and strains of this world build up, it is so wonderful to know that there is always some place beautiful nearby to regain peace and to remember how lucky I am to be living in such an amazing place... in such an amazing world." - Star, Customer Service Representative
"A simple pleasure I am grateful for is getting to spend quality time with people I cherish the most. As I grow older, I understand the importance of time and how meaningful it is. Therefore, being able to plan time together with my family or a friend is something so simple, yet so special to me. I will never miss an opportunity to spend that extra time with someone I value because creating memories with loved ones is what I will always treasure most in life." - Sherice, Customer Service Representative
"Sitting around the table with my family. My family and I are always on the move so it can be difficult to get everyone to sit down for more than five minutes. When we can find the time to sit down together at the table is my favorite. We get to unwind, giggle and reminisce about our lives. It's one time when we can all truly let go, with no judgements and just be as goofy as we want to be." - Bre, Marketing Manager
"Driving home with my daughter every day. I pick up my little girl from day care every weekday and there is nothing I love much more than her telling me about her day. It's a truly special moment we both get to have." - Korinne, Customer Service Manager and Lead Consultant
We hope reading this put a smile on your face. SpecialEyes is wishing you, your family and your friends a very Happy Thanksgiving. We would love to know one thing you are looking forward to or a simple pleasure you are grateful for. Let us know in the comments below.