Since their inception, soft contact lenses have gained immense popularity. They are safe, comfortable, made with better materials, and have better replacement schedules; making them the most common choice amongst doctors and patients.
However, some off-the-shelf toric contact lenses are limited to strict parameter constraints that don't fit everyone's needs. That's where custom soft contact lenses come in. Our lenses are custom cut to fit your patients' needs and can be made in a wide range of base curves, diameters, materials and refractive powers.
The Custom Soft Contact Lens Difference
The main benefit of custom lenses is allowing patients who have conditions that made contacts in the past uncomfortable to wear or were never even able to wear contacts, the ability to comfortably wear lenses again or for the first time. For example patients with:
High refractive errors
Small or large corneas
Steep or flat corneas
Intolerance for gas permeable contact lenses
Presbyopia combined with astigmatism
Myopia
We offer a multitude of lenses that will help you fit patients with presbyopia, help manage myopia, cornea irregularities, irregular astigmatisms, and everyone in between. We use a proprietary material that allows the contact to retain 99% of their water content during daily wear, thus bringing added comfortability for the patients. Unlike some mass-produced lenses, we're able to accommodate refractive errors up to +/- 25.00 diopters in sphere power and up to -8.00 diopters in the cylinder power.
The Fitting Process
It is important to ensure the fit of the custom soft contact lens is correct. Luckily, the process for fitting custom soft contact lenses is much the same as measuring for other contact lenses. First, obtain your patients' k readings, manifest Rx, and HVID. Then place your order with SpecialEyes via phone, chat or email. Last, the contact lenses will arrive at your office in 2 to 4 business days. Don't worry if the lenses don't fit well, you have up to 90 days to remake the lenses at no additional cost (just the price of shipping).
We have additional measuring tools for you so you can obtain your patients best fit. Our SpecialEyes Arc Length Calculator will ensure the fit is exact for your patient's needs. This tool takes the patient's corneal diameter into consideration to get the appropriate base curve and diameter for your patient's cornea.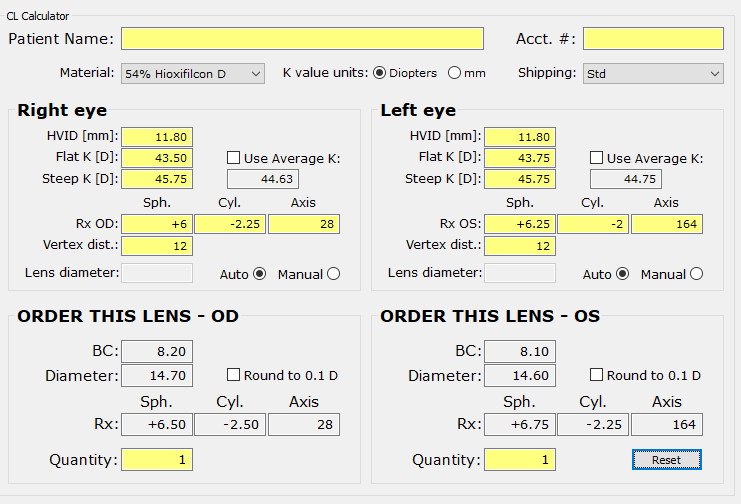 Why Choose SpecialEyes?
Custom soft contact lenses are great for patients with hard-to-fit eyes, astigmatisms, and other types of eye conditions that would normally prevent them from wearing contacts. When you order custom soft contacts from SpecialEyes not only are you getting a superior product for your patients but you are also changing the lives of people who ordinarily wouldn't have been a candidate for contact lenses.
Why settle for standard contact lenses that don't work well for every patient? Call, email, or place your order online to start offering your patients a custom contact lens solution that leaves them with clearer vision and healthier eyes.